S.M.Imam M.Ikram

Welcome to the world of Exclusive Indian Handicrafts. Come and explore the unique world of master craftmen since 1918.



The company was started by Late Haji Sheikh Mohd. Imam, who is among the founding fathers of the wooden handicraft Industry in Saharanpur in 1918. We are manufacturers and exporters of exclusive Indian handicrafts. Our's is a family owned company recognised and registered with The Ministry of Textile, Govt. of India. We are Member of Delhi Chamber of Commerce. We are situated 120km North of Delhi.

Our manufacturing unit is equipped with all the contemporary technical support for mass production with the best & selected artians. We have a record of producing many innovative and new products in the market. We have catered to many international renowned buyers, Export Houses & Buying Agencies in India & overseas. We have been exporting to America, Europe, Australia, Canada, Greece, Spain, Italy, France, England, Australia, New Zealand, Saudi Arabia, Kuwait and other parts of the world.
A House of Quality Products. Where innovation and tradition goes hand in hand.



Our Products:

Our main line of products includes made to be antique hand carved items, high class traditional furniture, interior decoratives, Gifts, wrought iron wares, boxes, candle stands, photo frames, partition screens, accessories, Incense Boxes, utensils and fresh designs from traditional carved items to the latest concepts of burnt and combination wood.
An age old tradition and heritage of craftsmanship from the carver's city of India. Come and feel the difference!

Kindly visit our sister company's website by clicking
We thank you for visiting our website. For full descriptions please visit other pages. Kindly mail us your suggestion and queries.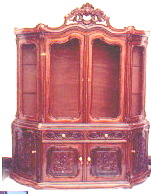 Almirah Classic
Quality Control:

Only mature seasoned wood is used and the products goes under strict quality control measures from raw material to the finished state. Every item for production goes according to schedule and planning. We do treatments for fungus & termite. We have all the infrastructure required for processing the wood from begining to the finish product. Our unit is engaged in seasoning, designing, carving and engraving.

info@handicraft.faithweb.com